Nursery News
 Can you believe we are nearing the end of our first year in school already?
Our new Mini Beast topic is off to a great start.
We've already been mini beast hunting, welcomed our class caterpillars and explored our new mini Beast Safari area.
We've had some big changes in Nursery this  term and we are pleased to report they have all gone incredibly well. Thank you to all the parents and carers who have supported children by:-
reading their new worded books
helping them to read and write their names
purchasing pumps for our PE lessons in the hall.
Take a look below to see what has been happening.
Question of the Day.
Democracy in Action
The Nursery and new Pre-school children have loved getting involved in the decision making in our school.
Each day the children have been writing their name (Nursery) or finding their name (Pre-school) and then using these to answer the question of the day.
Today's question was 'What story shall we read at home time?'
This is not just about reading and writing though! It has resulted in some interesting debates. What happens when you don't like either of the choices? What happens if your choice doesn't win? What happens when the number of votes is the same?
Parents you could try this at home and see how well your children cope with disappointments or problem solve to find a solution. They could choose what to have for tea tonight.
Something New for Nursery.
PE or PD
We already know that our children in Nursery love to jump, run and climb so we spend lots of time doing activities outdoors to meet our
P hysical     D evelopment milestones.
BUT
It's very difficult to slither like a snake on the playground so we have decided to start PE/ PD sessions in the hall.
The Nursery children feel very grown up in their new PE pumps and are getting better at changing these by themselves. (They will be ready for Reception in no time at all!)
Our sessions have been linked to our text 'Handa's Surprise' and the children have been moving like the animals of Africa.
The children have even created their own set of rules for in the hall and are doing an excellent job of remembering to follow them all. Mrs Else is very proud of how respectfully they move around the school.
How well our new Pre-school have settled into school life! We are very proud of them all and of course our existing children who have helped by welcoming their new friends and showing them what high expectations we have for behaviour and learning.
Our main theme for this half-term (mornings) is:
Fabulous Fruit (Summer 1) & Minibeats (Summer 2)
We will be using the  Key texts below to enthuse the children in all areas of learning.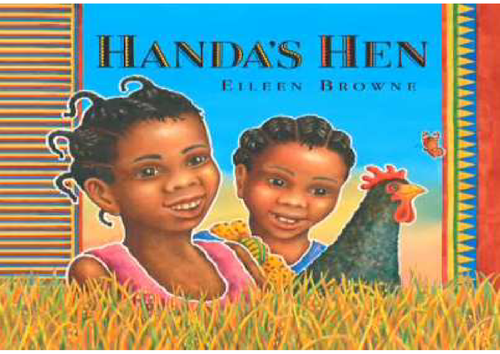 We will be learning to:-
PSED

PD

C&L

*take account of what others say, listening and responding during conversations.

*Explain or own knowledge by answering how and why questions.

*describe ourselves in positive terms, telling our new teacher what we are good at.

 

*move in a range of ways, thinking about the different parts of our body whilst we pretend to be minibeasts or animals.

*talk about how we can keep ourselves healthy, knowing that fruit is good.

*hold a pencil using three fingers (See links below).

*copy the letters of our name and other letters to start to write labels.

 

 

*extend my play by using story language to act out stories.

*follow simple then multistep  instructions to make our fruit kebabs.

*link statements to a main theme or intention when celebrating our weekly learning.

*maintain our concentration for longer periods of time in readiness for Reception. 
Lit

Maths

EAD

UW

*develop our phonics learning by covering the remaining phase 2 sounds.

*use the sounds we know to start to read simple words.

*understanding that we can gather information and learn new things from computers and books.

*write using our phonics skills, first by using initials sounds to record. 

 

* recognise and even write some digits, starting with 1-5.

*count out a group of objects from a larger group, knowing when to stop.

*start to use the language of addition whilst we combine groups to find a total. 

* we will use shapes to create patterns on our painted butterflies.

*become confident in our use of the language of size, when watching our class caterpillars grow. 

*our class shop will be providing us with lots of opportunities to use language linked to money.

*we will act our favourite stories about minibeasts, taking turns to respond to what the other children say.

*we will use our shop role play to act our familiar experiences, taking turns to be the customer and shop keeper. 

*learn to tap out simple repeated rhythms.

*create our own minibeasts from the junk in our class using tools to adapt our work.

 

 

 

 

*we will watch carefully as our class caterpillars grow and change. 

* we will learn to look closely at similarities and differences between different minibeast we find.

* we will compare Handa's home with our own homes, looking at the different animals she encounters.

*during Pentecost we will explore air. Children will learn that some things are invisible but still have power.

 

 
To help at home you can:-
There is lots you can do at home to help your child master some of the skills mentioned above. The links below will provide you with resources, videos and activities you can do at home. If you feel you or your child need any support, please do not hesitate to ask the class teachers.
Links to popular nursery rhymes and fairytale stories. http://www.bbc.co.uk/programmes/articles/5RMpbn1X8tMkMQgw0GRhz8L/early-years-foundation-stage-eyfs
A useful sheet about dough disco. A recipe to make your own and some moves for you to try. https://www.lsu.co.uk/pageassets/services/nursery/learning/discodough/Lets-go-to-the-Disco-Dough.pdf
Numberblocks – a fun programme to encourage counting and digit recognition.
https://www.bbc.co.uk/iplayer/group/b08bzfnh
Many thanks for your support,
Mrs Else & Miss Moore
SPAG (Spelling, Punctuation and Grammar)